The solutions you need to build Intelligent Transportation Systems (ITS) in your smart and convenient city
SYSTEmEG is dedicated to provide integrated smart parking and public transport solutions to Intelligent Transportation Systems in five key elements:
connecting parking infrastructure and individuals' hand-held devices to central server and  database,
  aggregation data from multiple sources to produce in-depth analysis,
  delivering customers real-time information that will enable them to respond to events in the city,
  delivering customers mobile apps and flexible web-based solutions in hosted or locally installed environment,
  providing customers support, such as call center and web portals.
The Intelligent Transportation System is changing fast, largely because of mobile and responsive web-based  services,
which are of intrinsic importance in the field.
The Parking Availability Map
In this day and age, almost everyone commutes in a car. Whether you're going to work or just out for an evening, it's always feasible to arrive in the comfort of your own vehicle. However, driving around several blocks to find parking can add unnecessary stress and not to mention traffic and annoyed drivers.  A recent study found that most drivers avoid driving to events, work or restaurants because parking is always an issue in a big city. Closer lots are always full and there's no way (or time) to drive around and find a safe parking area.
Parking Availability Map (P.A.M) application aims to improve parking visibility and reducing congestion in the city. The App is created with drivers in mind. It is accessible on mobile devices with any web browser to ensure ease of use. The App uses real-time data from wireless parking devices, issues smart parking permits and provides information on past parking trends. The map is updated every three minutes, giving you current information about parking availability. In additon real-time information is transmitted to the city parking navigation boards to guide drivers to vacant spaces in the city parking zone. The app shows where spots are most available on a color coded map of the city – red means no spots available, green means parking spots are available and yellow means nearing capacity.
P.A.M was first introduced as a supplementary solution to the Rzeszow Intelligent Transportation System. It helped motorist reduce the time spent looking for a parking space on Rzeszow's streets.
Let us help build customized map application for your smart parking!
Track enforcement officers on the street in real-time!
SYSTEmEG provides integrated solutions that digitise entire cycle of enforcement process.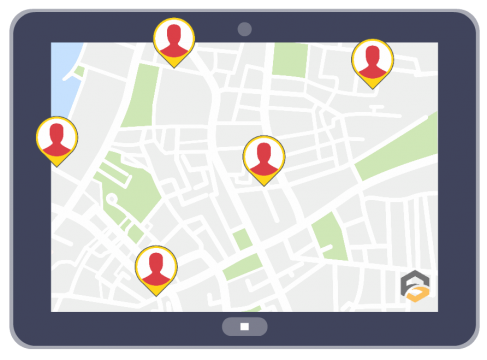 Tracking is not just for parked cars. If parking enforcement officers use hand-held terminals, equipped with GPS location module, our solution enables managers to track their location. Office staff can now track each enforcement officer's route, all issued tickets or checked parking permits in real time. If required, authorized personnel can view service history of each officer and/or export data to CSV file and open in the EXCEL. It is now easy for Managers to receive web based analytics for decision making and track employee performace.
This solution provides optimal support to supervisors.  It improves enforcement efficiency while your officers work smoother and faster.
All data can be published on a web site or/and  Android devices.
Connect with your officers!
The future of parking supervision and enforcement is digital!
Looking for inspiration on smart parking in your city?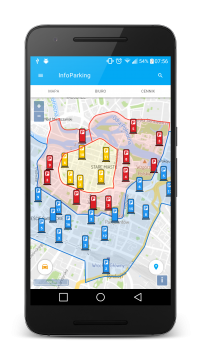 InfoParking is an innovative application that does more than just save you time. Along with providing detailed rates and location of various paid parking meters around your destination; it helps you locate your car! No more pressing the panic button on your keys to find your vehicle. Simply mark the location of your parking spot on the map within App so you can instantly find out where it is!
Travelling to an unknown city just got easier. Plan your parking in advance by downloading InfoParking App on your Smart phone. It gives the user a clear map of all available parking zones in a selected city- to further help you choose a parking spot, simple zoom in to a parking zone. What's more? Gone are the days of driving around to find the best rate. Get all the information pertaining to rates and payments with just one click! It also shows you when a certain parking zone is not available for parking and details information about parking hours
The future of parking is only one download away.